Nest Opportunity Fund® September 2021 Update
Nest is a conservative option in the QOF space, focusing on cap gains over the long term. While our structure is institutionalized, we have a "family owned" feel. We aim to hit singles and doubles, not home runs or strikeouts. 
I'm not sure if an OZ Fund is right for me
Download a sample calculator, contact us for 5-minute intake call, and you'll receive a customized cost/benefit analysis within 2 days. No obligations even if Nest isn't a fit.
I am going to invest in an OZ Fund, but am trying to find the right one(s)
Download our deck and then contact us for questions. Finding the right match for a 10-year commitment is crucial. No "hard sells" – we don't want 10-year partners that aren't a fit any more than you do!
Regulation Update! Additional Time to Invest in QOZ Programs
Investors with K-1 partnership gains realized in 2020 now have until September 10, 2021 to complete an investment in a QOF! Please contact us if you would like to discuss eligibility and review if this tax-saving opportunity is right for you! Call 614-469-4685 or email Meredith@NestOpportunityFund.com.
Snapshot: Fund Overview & Status
Small multifamily/single-family rehabs: 45 properties with 15 complete, 84 units with 21 complete
23% appreciation for appraised single-families
10% annual IRR projected (without OZ tax benefits)
Property Rehabilitation: Our Rehab Teams Continue to Execute
Lexington operations are putting final touches on 3 more single-family houses this month, with another 3-4 expected in September. We're in an unusually tight rental market, we believe due to normal seasonality, longer-term pent-up demand and, perhaps, some sort of tailwind from folks not moving during COVID. We've tried to take advantage of this by focusing resources on completing projects so they can hit the market during this period of strength by focusing on "close to competition" projects. We divert resources away from "earlier stage" projects, therefore there will be a lull in the fall when we won't be reporting projects being completed.
Columbus operations have pivoted toward earlier stage projects after completing 7 of the 8 units at Columbian. We will not have new properties coming online for the next few months.
Leasing
Rent growth/lease ups continue to be extremely strong.
Financing
No financings finalized this month. Initial financing term sheet and appraisals on four single-families has been completed. Last year, investors received significant depreciation losses, about $11,500 per $100,000 they invested. For our Series A Investors, there is a good chance that write-off is quite a bit higher this year. New investors in Series B will not receive depreciation tax losses in 2021, but we expect it to mirror our Series A starting tax year 2022.
Purchasing
Our Series B subsidiaries closed on the second purchase of a duplex in the Franklinton neighborhood of Columbus.
Nest in Spotlight at the Opportunity Zone Expo
Check out Clint's panel discussion at the OZ Conference in Denver and his process for helping potential investors evaluate whether an OZ investment make sense for them.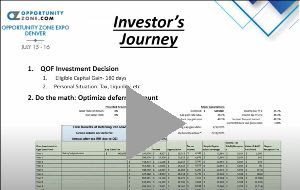 Don't Miss Your Investment Window!
Reminder: You have 180 days to invest Eligible Capital Gains (ECG) into a Qualified Opportunity Fund such as Nest to receive the tax benefits. If you have capital gains that were realized earlier this year, they will start to become ineligible. You don't want to miss the investment window! We are happy to assist with calculating your ECGs to determine if investing in an Opportunity Zone Fund is right for you. Contact us to receive our free Personalized Cost/Benefit Calculator.
Back